28.10.2018 Frankfurt Marathon
For the 2018 Frankfurt marathon, "Team Asha Frankfurt" is a fundraising team as part of Asha for Education, Frankfurt Chapter. Through this, we hope to encourage people – both new to the world of endurance running as well as experienced runners to help provide a better future for underprivileged children in India.
When you participate in a sporting event such as this marathon, raising money for our charity and Global cause can be as simple as sponsorship. Just asking your friends and family to donate a small amount each can really go a long way. Please use the below link for donating:
http://frankfurt.ashanet.org/donate-asha/
While donating Funds, please add Key reference words : "Asha Marathon 2018"
In the last 5 years, more than 100 runners took part in Frankfurt Marathon as part of Team Asha and raised more than € 12000 to support education projects in India.
This years program is to train and run for Frankfurt Marathon which will be held on 28th October. You can either run full marathon of 42.2 km or run distances 12.9, 6.1, 9.5 or 13.5 km as part of a relay team.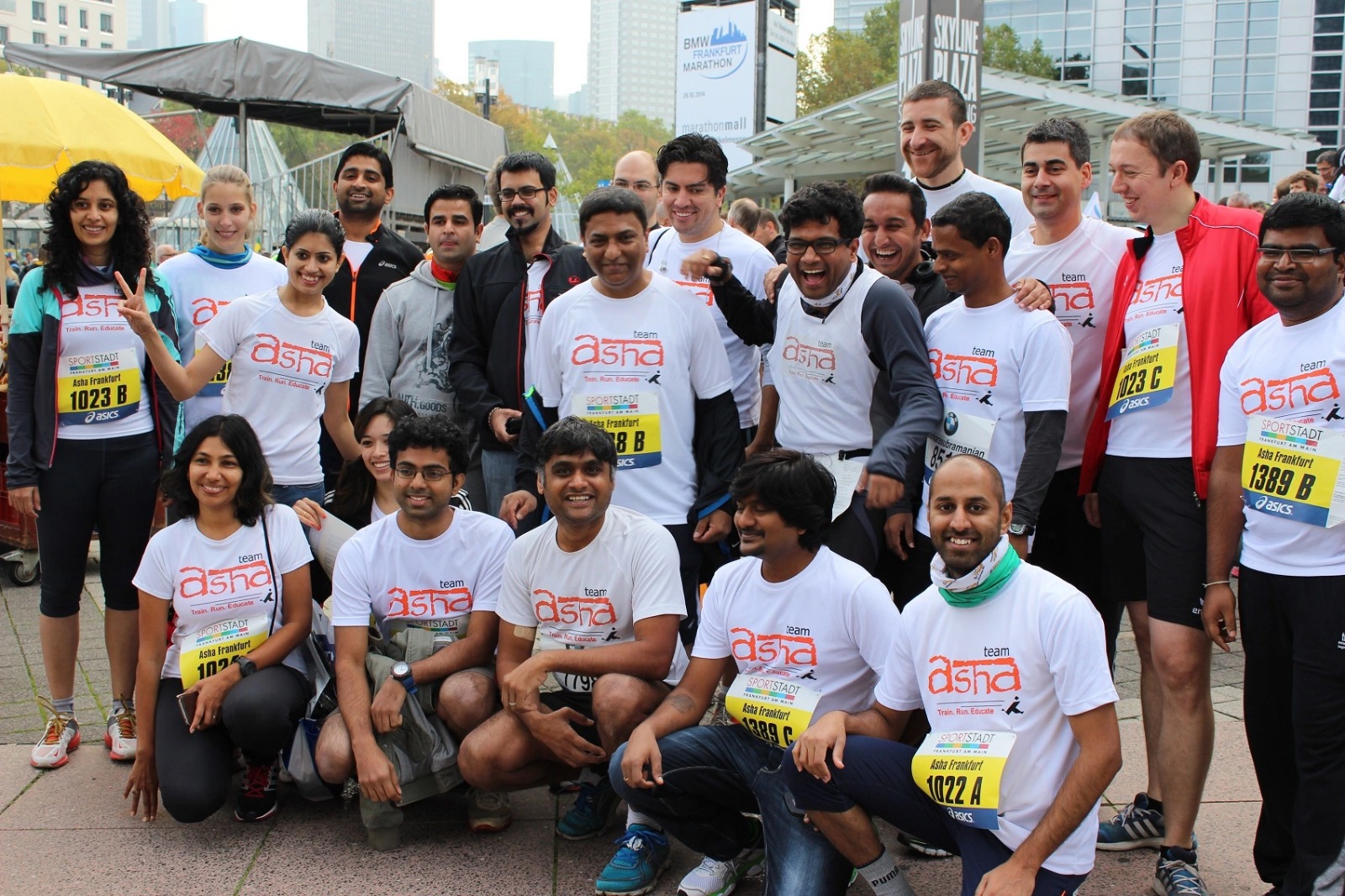 We will provide/organise :
• A marathon-training plan, if needed (specially for full marathon).
• Group runs (Saturdays/Sundays) and the opportunity to network with past marathoners and fellow runners.
• Seminars for running and sharing experiences of past marathoners.
• Fundraising tipps.
Costs:
Marathon (Single participant)
• Between July 1st 2018 and October 8th 2018: € 98
Between October 8th 2018 and October 21st 2018: € 108 (online until October 21st and on October 26th/27th 2018)
• Team Asha Frankfurt functional T-Shirt : 20 €
Further information about the Marathon: Frankfurt Marathon
OR
Staffel Run (Relay Run – 4 participants) :
• Between July 1st 2018 and October 7th 2018: € 175
Online late registration between October 8th and October 21st 2018 (if still available): € 190
Last date for registration is Oct 21st.
Cost of the Chip : € 10
• Team Asha Frankfurt functional T-Shirt : € 20
Further information about the Staffel Run : Frankfurt Staffel
Note:
• Participants and distance for Staffel Run (Relay Run) :
1. runner: 12,5k (2000 and older)
2. runner: 6,5k (2004 and older)
3. runner: 9,5k (2002 and older)
4. runner: 13,5k (2000 and older)
The 100% of the funds raised will go towards children's education projects supported by Asha Frankfurt in India. We will provide all the needed project information by the time we start fundraising. For more information about Asha and current projects please visit frankfurt.ashanet.org and www.facebook.com/ashafrankfurt.
Apart from taking part in Frankfurt Marathon and helping the children in India, with our highly energetic and motivated team, it is going to be lots of fun. Come Join Us!
For registration, please write an email to frankfurt@ashanet.org or send a message to Asha Frankfurt Facebook or WhatsApp to Asha Marathon WhatsApp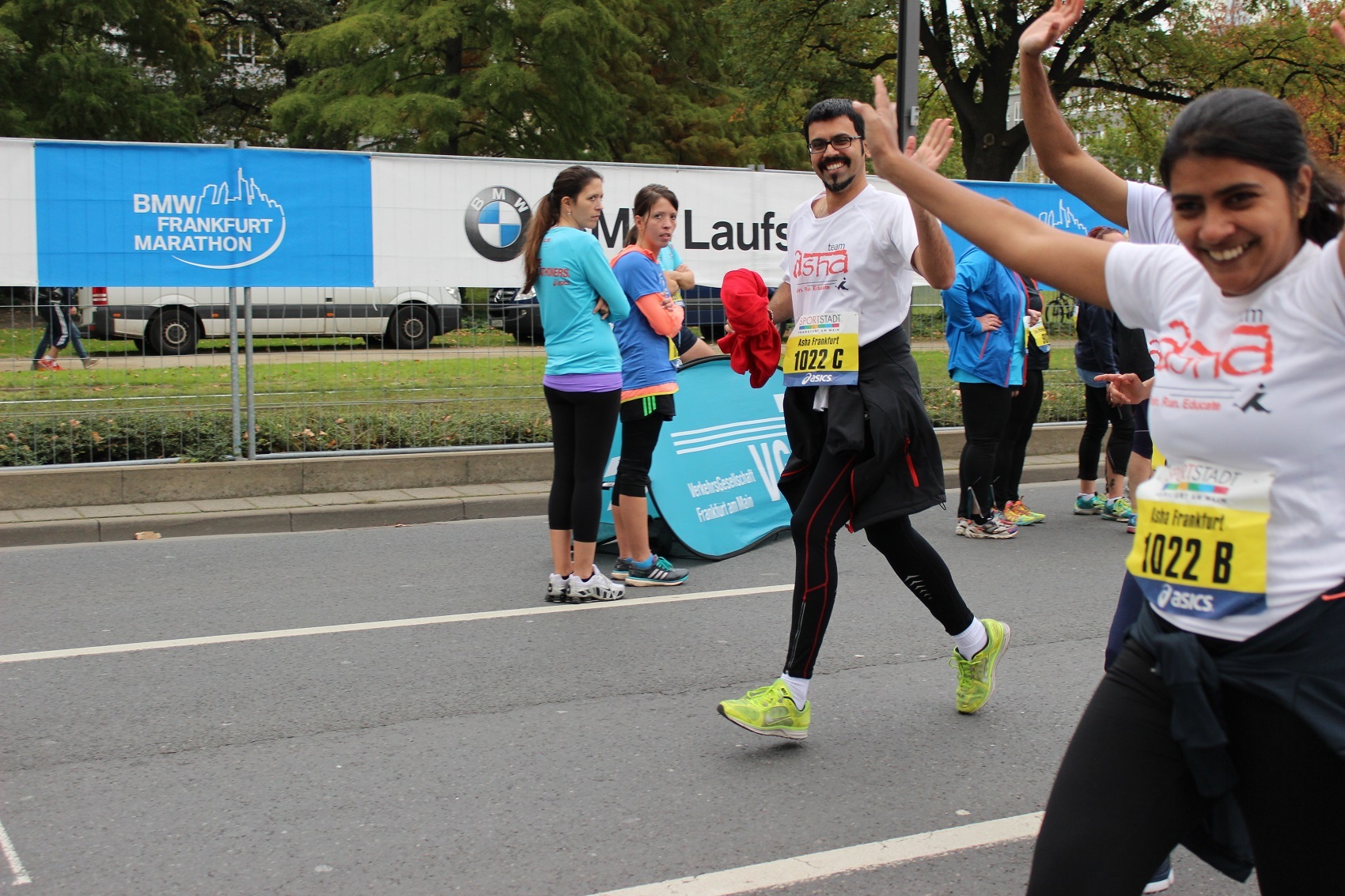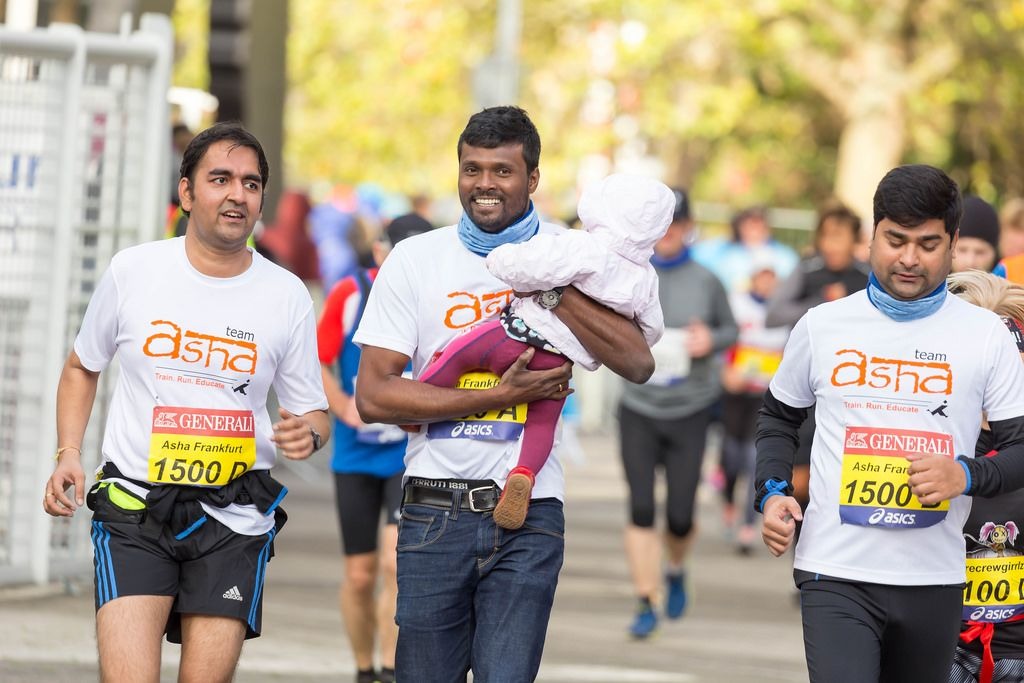 23.06.2017 Indian Cultural Festival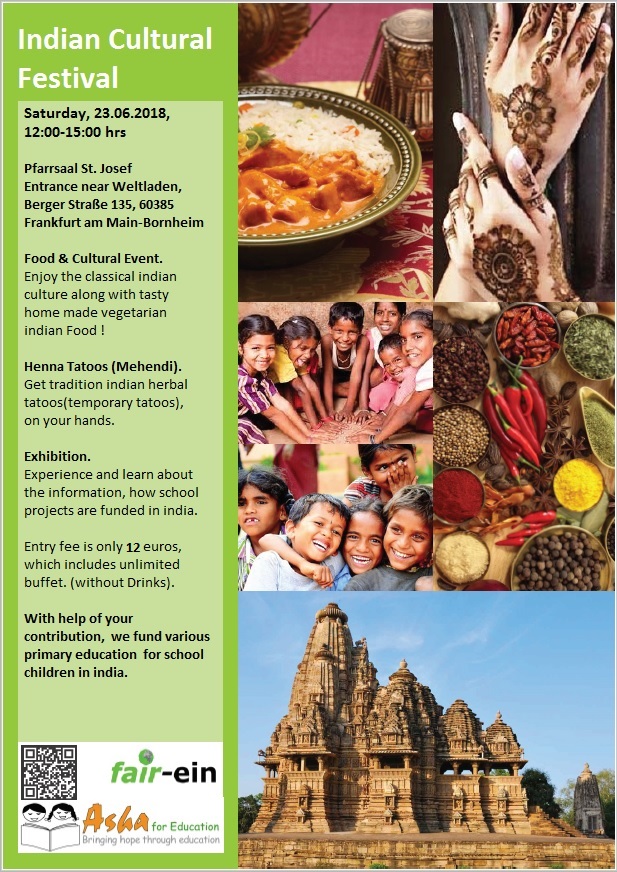 01.04.2017 Indisches Kulturfestival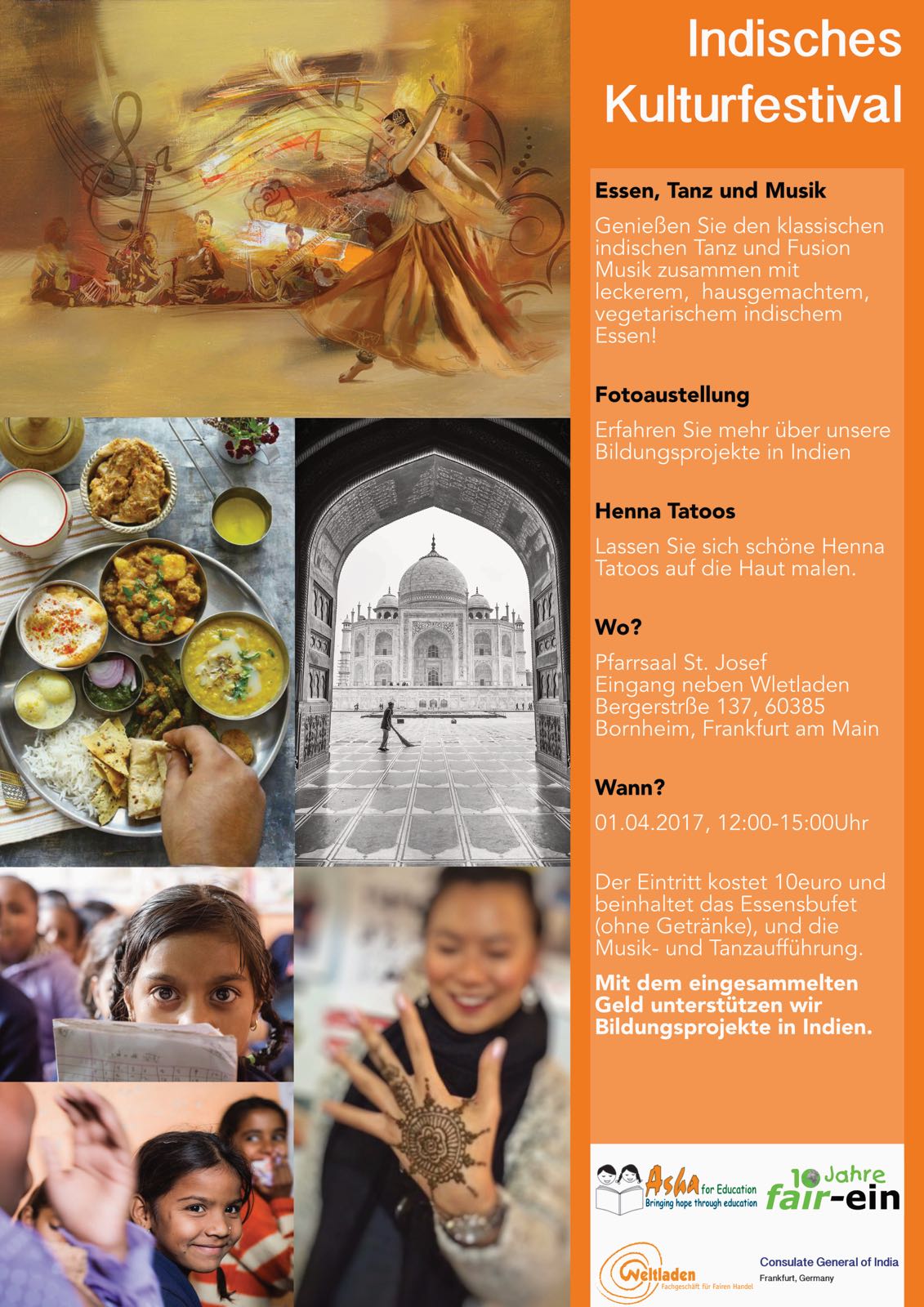 Photowalk Frankfurt
Because of bad weather, this event has been postponed until 18.09.16. Join Asha Frankfurt's resident photographer, Keerthan Shetty on a Photowalk in Frankfurt, Bornheim. The Photowalk is targeted at photography enthusiasts and will cover basics in digital photography (equipment, composition, workflow).
You are helping a cause!!!
Your registration fee will be used by Asha Frankfurt to help underprivileged children in India get better education. We will provide you with tax exemption certificate for the same(Please note that PayPal charges a fee of 1.5% + 0.35¢ for each transaction and will not be tax exempt).
Register Here!
4.08.2016 Weltladen food

This event is for Weltladen's invited guests.
---